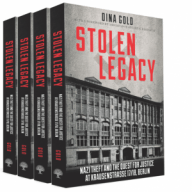 Q & A with Deborah Kalb
Today Deborah Kalb posted her interview with me about Stolen Legacy online.
She wanted to know what had made me decide to search for the long lost building behind the Berlin Wall.  Also, how I had felt as I uncovered more and more information which suggested my grandmother had not, as everyone suspected, been telling me pure fairy stories.  How had I managed to balance my role as a journalist at the same time as being personally and emotionally involved in the unfolding drama?
All good questions, and I did my best to answer them.  In a week's time my book will be published and available for purchase!
Deborah's Q&A with me was also posted on Moment magazine's website and you can read it here.