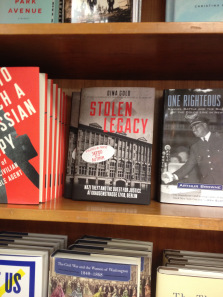 Politics and Prose Bookstore
Politics and Prose in Washington DC now has my book in stock.  It's on the  middle shelf of the "New Non Fiction" section.
And there were only two left.  I signed them both and a staff member stuck a sticker on saying "Signed by the Author".
Stolen Legacy is just above "Capital Dames" by Cokie Roberts.  Slightly to the left is "Ally" by Michael Oren.