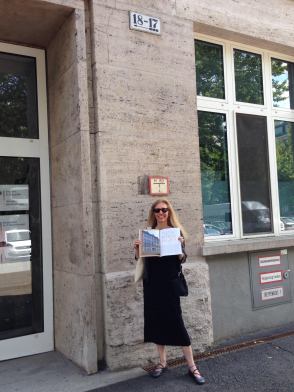 "Moment" meets Krausenstrasse 17/18, Berlin
Last week "Moment" editor, Nadine Epstein, was in Berlin.  She took the opportunity to pay a visit to the former Wolff family building – once the headquarters of a thriving international fur business.
And luckily she had a copy of the May/June edition of the magazine with her. Holding open the page where my article about "Stolen Legacy" begins, she could compare the glossy full page picture of the property with the building she was now in front of.
Time for a photo!