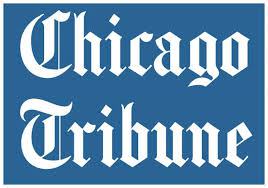 Chicago Tribune
A very nice article in today's Chicago Tribune entitled "ABA's new publishing line promises compelling legal tales."  The recently launched trade imprint, Ankerwycke, … hopes to rule the legal-niche corner of publishing. My editor, Jon Malysiak, director of Ankerwycke, explains that all the books …feature a legal tie, whether it's fiction or whether it's nonfiction.
Stolen Legacy fits well into this niche market.  And here's why:
The imprint also allows authors to dig into the complexity of the law, where other publishers might encourage writers to soft-pedal the legal details.
Without a doubt, I think if I'd gone anywhere else they would have said, 'Oh, we want a lot of gushing and emotion, said Dina Gold, author of "Stolen Legacy: Nazi Theft and the Quest for Justice at Krausenstrasse 17/18, Berlin."
And as the Chicago Tribune rightly reports: Instead, she was able to include family history while also delving into the German legal system in her book, which recounts efforts to reclaim her family's building in Berlin, lost when they were forced to flee during World War II.