Stolen Legacy in Florida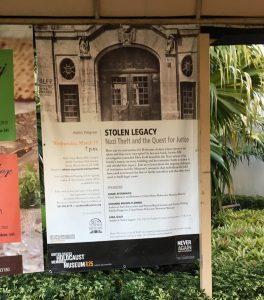 It was a wonderful trip with the United States Holocaust Memorial Museum to three different cities in southern Florida – Sarasota, North Miami Beach and Boca Raton.
Two USHMM experts – Suzanne Brown-Fleming and Diane Afoumado – were with me speaking about the archives held at both the Museum in Washington DC and the International Tracing Service at Bad Arolson.
There was intense interest in the subject, with audiences keen to learn how to research their own family histories and seek information which might help them register claims on their own families' Nazi stolen property across eastern Europe.
NPR recorded an interview with Diane Afoumado, Chief of Research and Reference at the Museum about resources available to help. There is still so much work to be done – about 80% of Jewish assets stolen by the Nazis and their collaborators during WWII have not been recovered.