Rose Valland Institute – Kassel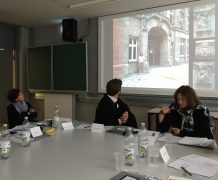 The Rose Valland Institute, an independent interdisciplinary project initiated by artist Maria Eichhorn within the context of documenta 14 (the art project held once every five years in Kassel, Germany), hosted a lecture and workshop on the fate of European property during the years 1933 to 1949. The Institute researches and documents the expropriation of Europe's Jewish community and the ongoing impact of those confiscations.
And I was there speaking about "Stolen Legacy."
Based in Kassel's Neue Galerie, the Institute is named after art historian Rose Valland, who secretly recorded details of Nazi plundering of state-owned French and private Jewish-owned art from France during the German occupation of Paris.  After the war, she worked for the Commission de Récupération Artistique (Commission for the Recovery of Works of Art) and played a decisive role in the restitution of Nazi-looted artworks.
The Rose Valland Institute investigates fundamental issues connected with ownership of artworks, property, real estate, assets, companies, moveable objects, libraries as well as scientific works and patents that were acquired by illegal means from Jewish citizens in Germany and the occupied countries during the Nazi era and have still not been returned.
The Institute is appealing to the public to research Nazi loot that may exist in their own inherited property and to submit their findings.  The ultimate aim is to return that property to its rightful owners or their heirs.