Keynote speaker at Hadassah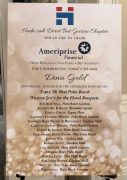 The Hadassah Dorot Bat Gurion Chapter held its 2019 fundraising luncheon at the magnificent Mirasol Country Club in Palm Beach Gardens, Florida.
There were 130 Hadassah members who came to hear me talk in the swish dining hall – spot the chandeliers!!
These are certainly "Women who Do" – as the poster attached to the podium made clear. The event was to raise money for a pediatric unit at Hadassah Hospital in Jerusalem – a worthy cause for sure.