Jewish Telegraph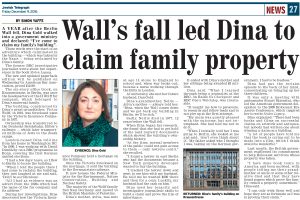 Ahead of the paperback edition of Stolen Legacy going on sale in the UK next week, the Jewish Telegraph has published this feature.
"A lot of people have told me that the book is crying out to be made into a film, which I think would be wonderful."
Last month, the British government reaffirmed its commitment to help Holocaust survivors whose property was taken.
"I have done book tours in America and been mobbed, with people telling me their grandmother or uncle or some other relative died and that they have found papers which prove the family owned a property somewhere," Dina said.
"I can only wish them well and hope they are as fortunate as I was in proving their claim."