Jewish Museum, San Francisco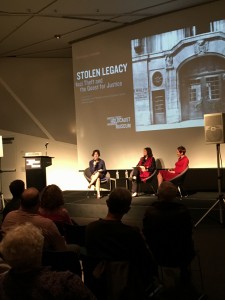 Next stop – tonight at San Francisco's beautiful Jewish Museum.
The event had been so widely advertised that the hall was jam packed. A queue formed for late-comers wanting to be squeezed in.  Again there were plenty of questions from the most attentive audience. So much so that we overran our allotted one hour time slot – and then conversations continued during the reception held in the foyer.
People really appreciate the information given about how they can use the US Holocaust Memorial Museum's resources to find out about their own family history.