Har Zion, Philadephia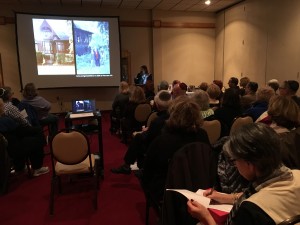 What a great community at Har Zion in Philadelphia. Last night there was a packed room for an event to mark the 78th anniversary of Kristallnacht.  As I told the story of Stolen Legacy, everyone was listening very attentively and then asked many excellent questions.
I am always pleased to meet people I can give helpful advice to and this evening was one such occasion. There was great interest in finding out about lost relatives, so I was able to point towards the USHMM (United States Holocaust Memorial Museum) and ITS (International Tracing Service) as having excellent resources to help those on a quest to discover their history.