Brooklyn Law School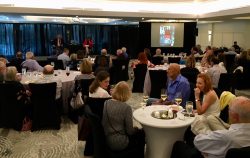 "On the Road" with Brooklyn Law School on November 2 at St. Andrews Country Club, Boca Raton, Florida.
Up on stage with Nick Allard, President, Joseph Crea Dean and Professor of Law at BLS, talking to alumni and invited guests about Stolen Legacy.
The Law School, with graduates practicing in 49 states, Washington D.C., and 37 countries, hosts events across the United States in order to connect with alumni.
There were many questions about the legal position regarding property restitution in former East Germany, Poland, Belarus and even a query from someone who had fled Iraq decades ago and would like to reclaim his long lost family buildings.