An email from Detroit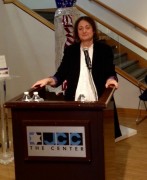 It is six weeks since I spoke at the JCC in Detroit.  Today I received this email from someone I met at the event:
I was thrilled to read your book, both from the perspective of a journalist and lawyer and as the child of German Jews (on both sides). Your ability to weave together the story of your claim for restitution as well as the investigation of what happened to your family members in a manner that is both delicate and personal as well as passionate and adversarial was thrilling. My grandfather was a restitution lawyer for victims of the Holocaust in Detroit after the war, having had to flee a very successful career in Berlin as a lawyer and working in a paper box factory until retirement. He wasn't alive to see us secure restitution of his business buildings near the Brandenberg Gate after the Berlin Wall came down, but the process was similar, though not nearly as harrowing as yours was — the stakes were much higher in your case! Thanks again for the gift of this book. It is a treasure.
Joanna Stark Abramson
I am sure I am not alone as an author to delight in receiving such positive feedback from a reader.